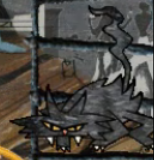 Appearing at the first part of
Attic, Basement and Beyond Nightmare
are two
black cats
on ladders separated by a short distance that will throw mirrors up into the air and will shatter when they fall back down, harming
Ned
. He has to hit them three times each with his yo-yo and they will run up the ladders, then Ned can use the ladders. (The one on the left will warp you through a phonograph and the one on the right will take you into the
School Nightmare
.) When frightening both of the cats, a rocking sound can be heard. Ned can walk on the carpet to fall down to the Basement.
They are a representation of bad luck, being in addition to walking under ladders and breaking mirrors.
Ad blocker interference detected!
Wikia is a free-to-use site that makes money from advertising. We have a modified experience for viewers using ad blockers

Wikia is not accessible if you've made further modifications. Remove the custom ad blocker rule(s) and the page will load as expected.