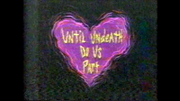 Until Undeath Do Us Part
is the 8th episode in the Nightmare Ned TV series.
Characters
Edit
While going to the movies by himself, Ned is encountered by a fellow female student, who has a huge crush on him. While both are watching a zombie movie, Ned gives the student a bag of Caramel corn, in which she opens the bag to reveal a ring inside. She then concludes that her and Ned are engaged. Just then, Ned has a nightmare that he took the ring and threw it in a cemertry, where zombies rise from their graves. At the same time, Ned encounters other zombies who plan his bachelor party, since he's engage.
Ad blocker interference detected!
Wikia is a free-to-use site that makes money from advertising. We have a modified experience for viewers using ad blockers

Wikia is not accessible if you've made further modifications. Remove the custom ad blocker rule(s) and the page will load as expected.